THE IN SITU LABORATORY INITIATIVE
Building local capacity to monitor wildlife health and biodiversity globally
The In Situ Lab Initiative has a democratic architecture that is based on a network of hubs. Each hub is a node in a network of decentralised laboratories, and consists of hubs connected upwards to urban established laboratories, and downwards to satellite or mobile laboratories. Together, the network dramatically increases the availability of laboratory services targeted to wildlife and the environment, in a particular region.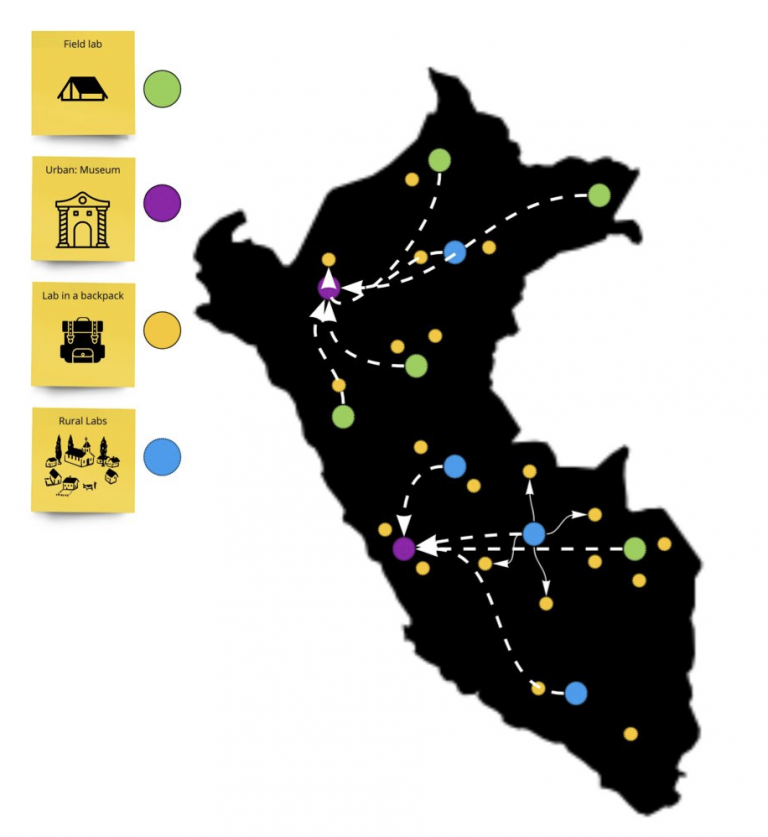 What makes a good hub?
ISL Initiative hubs are/will be located anywhere from remote field stations without road access or electricity, to a town without without prior laboratory access, but established energy and infrastructure supplies. All of them however, have to consider several factors to ensure smooth operability and equitable access. A good hub needs:
Secure infrastructure with the potential for establishing sterile workspace.

Equitable access to the hub including affordability.

Adequate energy supply to the hub, with a preference for sustainable energy sources.

Appropriate biohazard disposal pipelines.

An emphasis on plastic reduction.

Proximity to sample collection to increase collection scale and reduce time to preservation per sample.

A data tracking system to efficiently record the path taken for each sample from collection to sequencing.

A community-based approach with regional partners as primary leaders for each hub.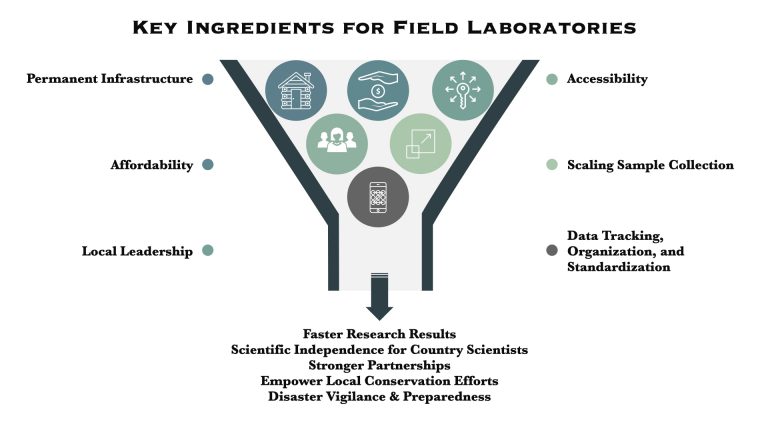 The Advantages of a Well-Planned Hub
Adding or upgrading laboratory space can radically expand opportunities to study, record, describe and analyze information locked into biosamples. Not only do biosamples provide a hitherto inaccessible perspective on physiology and biology, but they can also be combined with population wide analyses to streamline how samples are collected. For example, if genotyping a fecal sample to identify its producer is possible, then samples without known producers can be collected opportunistically, reducing the amount of time spent watching animals waiting for samples to be produced.  
Bringing a laboratory to a geographic location where there has never been a laboratory can also impact local communities. Not only does it provide them with access to infrastructure and equipment, but it reduces and even eliminates the need for biosamples to be exported to foreign countries for analysis. Therefore, the exportation of opportunity – to participate in sample analysis and not only sample collection – can be eliminated with a well-planned hub.